---
---
Here are a few pictures of Mike and Mary Eiden's layout.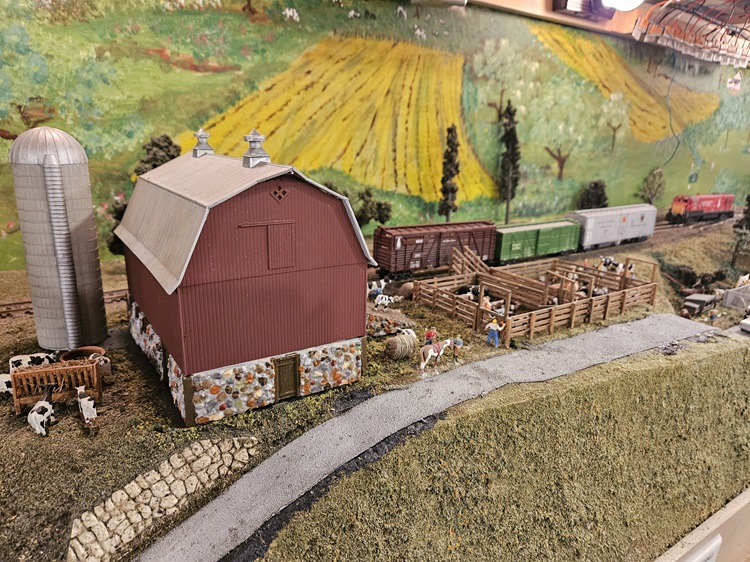 The Milladore Rudolph and Eastern Railroad
A Digitrax (DCC) layout began as a 10' x 25' single level with 70 ft. mainline track serving central Wisconsin. The upper level was added later and when the ramp connecting the two levels was determined to be too steep of a grade, a helix was added and at that point, a 2' x 27' extension into the other room was also added. It served Milwaukee and also has a large passenger station. The helix is a three ring helix, and is 4' in diameter built inside a closet. The helix is now finished and is partly hid by a rock quarry in the center of the helix. The helix can be viewed through a viewing platform outside of the closet. Industries on the lower level (Milladore Rudolph & Eastern) include a cement plant, dairy farm, cheese plant, golf course, auto dealership, a pulpwood loading area, a team track, and a meat packing plant. The upper level (Mosinee Biron and Eastern) serves a paper mill and a furniture factory. It also interchanges with the Green Bay and Western and also the MRE railroad. The lower level also has the Rocky Run Railroad, a short line that runs from the quarry to the MRE interchange track. The Milwaukee section serves industries such as Cutler-Hammer, P & H Mining, Alan Bradley, and Matt's Custom Remodeling. The Milwaukee Road owns the track at these industries and does the switching there. Amtrak has a large (stub-ended) station and switches mail cars, dining and sleeping cars to the Post Office and Commissary Building, and also switches REA cars to the REA building. The buildings are Walthers kits, Design Preservation wall panels put together to custom build some of the Milwaukee background buildings. There are also some Atlas and Model Power buildings on the layout.